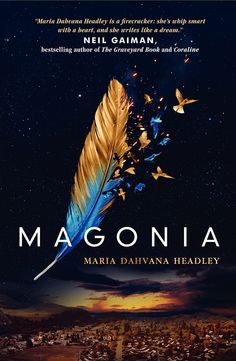 Title: Magonia
Author: Maria Dahvana Headley
Published: April 8, 2015
Pages: 320
Buy it: B&N | Kindle | Kobo | Book Depository
Rating:

Aza Ray is drowning in thin air. 
Since she was a baby, Aza has suffered from a mysterious lung disease that makes it ever harder for her to breathe, to speak—to live. 
So when Aza catches a glimpse of a ship in the sky, her family chalks it up to a cruel side effect of her medication. But Aza doesn't think this is a hallucination. She can hear someone on the ship calling her name.
Only her best friend, Jason, listens. Jason, who's always been there. Jason, for whom she might have more-than-friendly feelings. But before Aza can consider that thrilling idea, something goes terribly wrong. Aza is lost to our world—and found, by another. Magonia. 
Above the clouds, in a land of trading ships, Aza is not the weak and dying thing she was. In Magonia, she can breathe for the first time. Better, she has immense power—and as she navigates her new life, she discovers that war is coming. Magonia and Earth are on the cusp of a reckoning. And in Aza's hands lies the fate of the whole of humanity—including the boy who loves her. Where do her loyalties lie?
So Magonia.
                                                                                                           
I heard a lot of great things about Magonia so when it was $1.99 on Kindle I had to pick it up. Also it was $1.99 and I'm a suffering college student. Anyway, I started reading the book near the end of my Fall semester since everything was winding down, I just finished a show, etc. etc. Let me start with this, I grew to really enjoy this book. At first I kind of eye-rolled and thought that it was just going to be another cookie cutter YA novel, but I was pretty surprised by how it turned out and especially how it ended.
At the start of the book I was getting a bit… irritated by Aza. She was very much the "woe is me" edgy female protagonist that I tend to run into a lot. The book, personally, started out very middle school childish and it was really cheesy and campy. I contemplated a few times about stopping without even getting through the beginning of the story–but when you have a quote from Neil Gaiman praising the book, you just have to keep reading it right? And I'm glad I did, really.
The world building was amazing. I felt like I had the same understanding of the world that Aza did, which isn't really. I had a taste of the world, but not a real understanding like Dai had. It makes me want to know more about the world and more about how the world of Magonia works and well, everything. There's literally a whole world out there that I don't know and I'm itching to know more about it (I also found out that this is a series? Um. Yes.) Maria did such a wonderful job of introducing us but not fully immersing us into this world. It keeps a lot of questions unanswered and the reader wanting so much more. It's actually one of the parts that made me enjoy the book rather than just write it off as a cookie cutter YA.
I say this about almost every YA novel I read, but I wasn't a huge fan of this weird romance? I kind of didn't know what to feel about it or what to think about it because it was constantly in a juggle of "he's hot–but we just have this connection–but he's hot". The entire time I was like, "So does she dig him romantically or na?" We also didn't really get a lot of Dai. He's supposed to be this huge importance to complement Aza's singing (which I'll get into, but holy hell I LOVED that part) and what not, but he was kind of there and then not. But then there's this whole conflict between Aza liking Dai (?) and being in love with Jason, which came totally from left field. It was almost like there wasn't really supposed to be romance but the publisher was like "no you need it to sell" and so it was added in there kind of half baked.
The singing. Oh the singing. Without really spoiling anything, singing is very important in Magonia. This is going to be short because I don't want to spoil anything, but it's very important and very cool and totally the thing I love about these kind of fantasy novels..
All in all, I really recommend this novel if you're a fan of YA but also a fan of fun and new takes on fantasy and the ships in the sky.