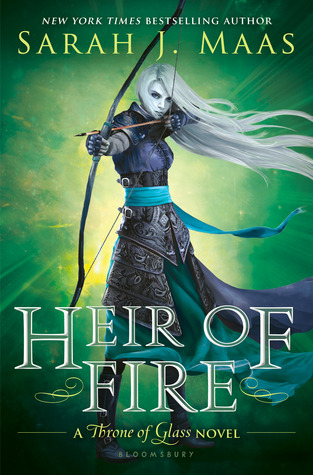 Title: Heir of Fire
Author: Sarah J. Mass
Published: September 2, 2014
Pages: 562
My Edition: Scribd
Add to Goodreads!
Rating:

She was the heir of ash and fire, and she would bow to no one.
Celaena Sardothien has survived deadly contests and shattering heartbreak—but at an unspeakable cost. Now she must travel to a new land to confront her darkest truth…a truth about her heritage that could change her life—and her future—forever.
Meanwhile, brutal and monstrous forces are gathering on the horizon, intent on enslaving her world. To defeat them, Celaena must find the strength to not only fight her inner demons but to battle the evil that is about to be unleashed.
The king's assassin takes on an even greater destiny and burns brighter than ever before in this follow-up to the 
New York Times
 bestselling 
Crown of Midnight
.
I went on kind of a binge spree with the Throne of Glass novels. They have the first three of them on Scribd, so I had no qualms about reading one right after the other. I have to say. Sarah J. Mass is just continuing to grow her story as well as she's growing with her writing. While Heir of Fire was a longer read, I still think it's a great addition to the series.
Let's start with the characters. We have an introduction of about three or four new characters to our cast. We have Rowan, Aedion, and Manon. Each of these characters grew and had their own arc with their story and I'm excited to see where they go in Queen of Shadows.
Rowan being the typical broody warrior aged by time and misfortune becomes increasingly open throughout the novel and I loved seeing the relationship build between him and Celaena. While I love Celaena and Chaol, I like seeing how Celaena has found someone to finally connect with. Whether they become "mates" like the Faes tend to have is whatever S. J. Mass intends, but I really like how organic and how the relationship grew with Celaena's grieving. Rowan helped her get out of the depression she fell into by opening up and letting her in.
I really enjoyed both Aedion and Manon, more Manon than Aedion–but I'm hoping to get more of their own chapters in QoS. I'm interested in how Manon continues in the story and if she's the changing tide within the witches. I would love to see Celaena and Manon have a meeting and Manon move to the side of Celaena. I only think that the King of Adarlan plans to betray the witches. I sense some really great battle scenes with Aedion and I cannot wait.
Dorion. Dorion. I just feel worse and worse for Dorion. That's all I'm going to say.
Plot wise this book was a lot slower than the last one. In CoM it was constantly fast paced. There was always action, something moving quickly. The book started a few months after the competition, but there was still that feeling of the same action and the same face paced environment. I wanted to get to the end.
In HoF, I found that there was a lot more downtime. This was the book of Celaena's grieving and suffering and her coming out back from the ashes. There was a lot of Celaena's exploration and her rediscovering what she is, who she is. So this book felt so much longer. There were a lot of words, a lot of thoughts, a lot of unspoken banter. I found it to be incredibly enjoyable, but I felt like I was taking too long. It felt like something needed to speed up. I don't dislike what happened in the book, definitely not, I just think something should've kept the pace a bit quicker. At times I felt like I was sitting too long at the movie.
Above all, this was such a strong book about grieving. Celaena's been running away from her past, away from all of her grief in a mask of aggression and rage. She was angry at herself. She felt like everything was her fault. Which is incredibly real. It was amazing seeing Celaena grow in this novel as a person. She's come back from the depths of hell as a new person. As a stronger person.
Overall I found this book a really good read. If you're one for the Throne of Glass novels, I don't think you'll be disappointed. There are really good things simmering under the surface and I'm awaiting the climax. Though according to Goodreads, there are supposed to be two more books for the Throne of Glass series. I'm not sure how that'll work out since it looks like we're nearing the end, but I'm curious.
A quick note: I'm going to slowly start making a switch to WordPress. Though I really like how my blog looks here on Blogspot, I think I like the format of WorPress a little more. So I will be posting duplicates of this post on my WordPress blog. If you'd like to follow me there, feel free! I'm sure this blog will last for a while longer.