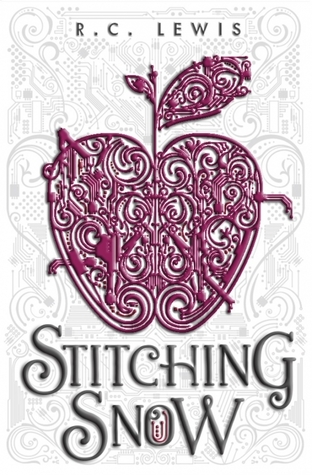 Title: Stitching Snow
Author: R. C. Lewis
Published: October 14, 2014
Pages: 338
My edition: Hardback/won
Add to Goodreads!
Rating: 

Princess Snow is missing.

Her home planet is filled with violence and corruption at the hands of King Matthias and his wife as they attempt to punish her captors. The king will stop at nothing to get his beloved daughter back—but that's assuming she wants to return at all.

Essie has grown used to being cold. Temperatures on the planet Thanda are always sub-zero, and she fills her days with coding and
repairs for the seven loyal drones that run the local mines.

When a mysterious young man named Dane crash-lands near her home, Essie agrees to help the pilot repair his ship. But soon she realizes that Dane's arrival was far from accidental, and she's pulled into the heart of a war she's risked everything to avoid. With the galaxy's future—and her own—in jeopardy, Essie must choose who to trust in a fiery fight for survival.
I really liked how the story started. I always love the fighter girls who give a "f– off" attitude. I liked how everything was set up and I liked how the intrigue was going and then at some point… It was kind of lack luster. I don't know how I feel about it after I finished the novel. I wanted to know the ending and I wanted to know how everybody faired in the end, but I was kind of curious of the destination and not the journey. I kind of don't even know how to write this review. Let's start with things I liked.
I liked the quirky drones Essie had with her. They were obviously supposed to be this story's version of the seven dwarves. I thought it was adorable and it was a really good connection.
Olivia had very much the evil queen feel that the classic Disney movie put on. I pretty much imagined that evil queen with just a more sci-fi feel to it. 
Diversity? Check. 
Now with the things I didn't really like…
I felt that the story was a bit short. I never had enough time to look at one area and I never had enough time to take in the surroundings. It helped with getting the feel that this was happening incredibly fast, but by the time I settled in one planet we were on to the next. There wasn't a lot of description involved in general which is what I like in novels. There was a lot of point A to point B. 
The romance was… alright? I didn't really get the feel between Essie and Dane. I get that they're supposed to be together (they're the only two that really talk to each other throughout this entire endeavor) but it didn't feel very justified to me. 
Things were incredibly predictable. I knew from the start what was going on so I was just kind of sitting there like, "alright is this where you figure it out?" I saw the ending kind of a mile away. Maybe this comes from being a fairy tale retelling, but I wasn't impressed with how the plot moved. 
This was a pretty quick novel if you're into a story being really straight forward. There was really one true destination and that's what was going to happen. If you're into books that have a lot of plot twists and sudden "aha!" moments, I don't think you're going to enjoy this novel. I like going in for a wild ride and this kind of felt "meh" to me. 
All in all, this book was alright which is a shame since I really wanted to like this book. I'm a sucker for fairy tale retellings, but this just didn't really cut it out for me. I kind of still want to read Spinning Starlight but considering how this book went, I might put it down farther on my lists to purchase.