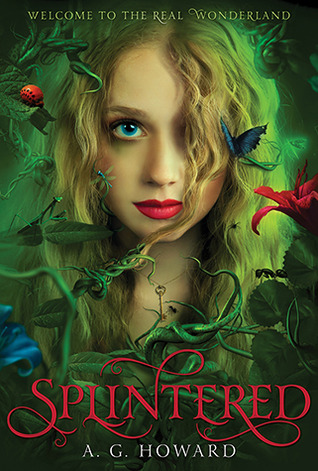 Title: Splintered
Author: A. G. Howard
Published: January 1, 2013
Pages: 371
Goodreads
This stunning debut captures the grotesque madness of a mystical under-land, as well as a girl's pangs of first love and independence.
Alyssa Gardner hears the whispers of bugs and flowers—precisely the affliction that landed her mother in a mental hospital years before. This family curse stretches back to her ancestor Alice Liddell, the real-life inspiration for Lewis Carroll's 
Alice's Adventures in Wonderland
. Alyssa might be crazy, but she manages to keep it together. For now.
When her mother's mental health takes a turn for the worse, Alyssa learns that what she thought was fiction is based in terrifying reality. The real Wonderland is a place far darker and more twisted than Lewis Carroll ever let on. There, Alyssa must pass a series of tests, including draining an ocean of Alice's tears, waking the slumbering tea party, and subduing a vicious bandersnatch, to fix Alice's mistakes and save her family. She must also decide whom to trust: Jeb, her gorgeous best friend and secret crush, or the sexy but suspicious Morpheus, her guide through Wonderland, who may have dark motives of his own.
My Thoughts
I've
 had Splintered 
on my mind for a while because I 
love
 Alice in Wonderland retellings and I once said that I will probably read any retelling of Alice in Wonderland even if it was terrible. Don't be
 discouraged though, because Splintered 
was a really good read. I had a few problems with character traits and stuff, but otherwise the plot itself was fun and engaging. I also came into reading this book blind because I didn't really know about this book until I was randomly browsing on GoodReads so I didn't really have a lot of expectations other than wanting it to be a fun book. Yes there is a love triangle, 
yes 
they fight over Alyssa (which 
ugh
 ), and 
yes
 I kind of felt like a lot of certain love scenes weren't placed right (a case of "now is not the time, guys"), but I had fun with it and this is coming from someone who's really critical of love stories in these kinds of books.
We get introduced to the characters pretty early on and I personally was a bit put off by Alyssa, our heroine. She had this really cynical, the world is a dark place kind of attitude, which okay, I understand with your mom being put in a mental institution but she was really milking it, and I'm not really a fan of those characters or people. But I understood. As the book progressed, I started to warm up to the girl. She had a lot of stuff thrown at her in life recently throughout the book, so I started to sympathize with her. Especially near the end with guilt. She felt that she brought an innocent bystander to a terrible situation and she had to make it right. In the end I was rooting for her and I wanted her to be able to set things right.
Jeb comes into the story fairly quickly too and he's supposed to be this older brother type character that is also in love with her? I kind of got that, but I'll be honest and say that I wasn't really buying it. Most of the time the two were fighting and at odd ends so it didn't seem like they had this good relationship. It probably felt this way because we go into the story where Alyssa already had Jeb help in shooting down her dreams to go to London. I think what might've helped is if it showed this great relationship only to have it soured by Jeb siding with her father and saying she can't go to London. So most of their romance and their relationship felt really factual. It never felt like there really was a relationship. It kind of was the case of the shoehorned romance. Jeb and Alyssa's scenes felt like they were totally not appropriate to the situation they were in. Like I said in the beginning I was sitting there going, "Now's not the time guys. We have other problems to worry about." In all honesty I wasn't interested in Jeb almost at all. He felt really overprotective and possessive like a hovering dad instead of an older brother so it was kind of weird in that sense that they had a romance going on.
Now Morpheus on the other hand. Whoo boy. I liked Morpheus a lot more. He too was really possessive of Alyssa, but with him I actually felt like he had history with Alyssa. I really loved their chemistry together and while Morpheus is totally the bad boy (not pseudo bad boy like this guy is pretty much an antagonist), I was rooting for him and Alyssa rather than Jeb and Alyssa I will be perfectly honest haha. He was really swoon worthy so I liked him a lot more. Morpheus just had this draw to him and I personally couldn't help but get a bit infatuated with him and I'm normally a really abrasive person when it comes to guys. He was really charismatic and had a good sense of style so why wouldn't I love him right? He just… you know has that really possessive, manipulative, and self serving attitude, but technicalities right?
Overall I think this book was a fun book. The world building was pretty fantastic and while some descriptions like certain pieces of clothing and character features were a little hard to follow, it didn't really hinder my experience all that much. I loved how creepy this story was as a retelling, it's a new fresh kind of look at Alice in Wonderland. It really reminded me of a lot of the older stuff that Tim Burton created. (Side tracking for a moment, there was an exhibit for him at LACMA and I totally went to that and it was great.) The book started a little slow in the beginning, but once we get to Wonderland the adventure starts and you're on a wild ride. It didn't have any problem with feeling like I was part of the story. I constantly felt confused and it was really hard to trust Morpheus after he manipulates Alyssa multiple times which really helped me sympathize and be on her side of things. If you're into Alice in Wonderland stories you're probably going to enjoy this.