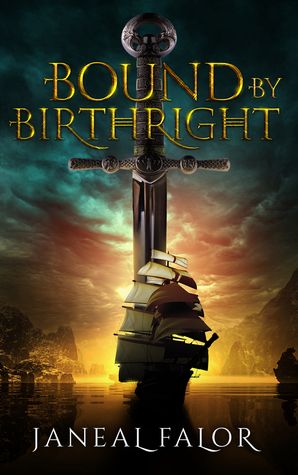 Title: Bound By Birthright
Author: Janeal Falor
Published: June 6, 2016
Goodreads!
Elven princess Arabella is set to marry the human Prince Phillip but her countrymen do not hesitate to express their anger with her parents' attempt to improve relations with the humans. With death threats plaguing her, Arabella is forced into hiding.
When her sanctuary is usurped by pirates, Arabella goes on the run with humans who vow to help and keep her safe. She finds herself drawn to one of the humans, the dashing Robert, who steals her heart.
Arabella would like nothing more than time to get to know Robert better, but with pirates attacking and her wedding date approaching, time is one thing she doesn't have. Arabella's on a flight for her life and must reconcile with the truth—she can never be with the one she wants.
If only her heart would agree.
I got this off of Netgalley recently and decided that I should keep the fantasy binge alive and well while I'm at it. This story has a pretty interesting premise. Elven princess off to marry a human prince in the name of duty and diplomacy, plans begin to falter after an assassination attempt and being in the hands of pirates? I mean that sounds like a pretty good adventure not to mention some character building. I was pretty excited to get into this book. I thought it might be a little bit of a Pirates of the Caribbean feel. 
Unfortunately that didn't really seem to be the case. The book started out okay I guess, but the assassination attempt is within like… two percent of the story. So immediately I'm bit confused. I don't have any notion against being thrust into the middle of the action head on, but there was no build to it. It was kind of like "haha! I am here to assassinate you!"
I only got up to around 15% of the book before I had to put it down. Everything about this story was incredibly bland. It honestly felt like it was a rough draft or even an outline of a novel instead of a finished one because everything was so bare bones. It felt like it was the bare minimum for a story and a character and I couldn't bring myself to read more or even try to care about the characters. The writing felt rushed and there wasn't any real indication of characterization or description of… anything. Almost too much was left to the imagination. 
All in all I'm pretty disappointed by this book and I don't know if I'll ever pick it up again. I tried really hard to get into it, but nothing really grabbed me except for the pirates and even then that was a bit bland. 
*I was granted this eARC from Netgalley in exchange for an honest review.*