Hello my loves it's my stop at The Melody of You and Me blog tour (my first one–wow) and I'll be writing a review and showcasing a Playlist for the book as well!
The Melody of You and Me was the first lesbian themed novella I've ever read. I haven't really read a lot of queer reads so I was really excited about this. Thankfully it paid off. I found the novella to be incredibly fluffy and cute if not a bit cliche and cheesy at times. I'm a bit of a dramatic person so I like my stories to have high stakes and crazy ultimatums but I really, really enjoyed this. It was a really lovely relaxing read.
I loved reading how the relationship between Chris and Josie kind of blossomed. I actually would've liked it more as a full fleshed novel than a novella. I personally felt that the story moved a bit too quickly, but then again that seems to be the case with the novella format (but then again, I've only read two). I wish I saw more of a slow burn with the relationship, but that just shows how much I really loved reading about this relationship.
This review is a bit short today, but that's because the story was short in itself. I think it's only about 80 pages, which is like a booklet compared to the tomes I seem to be reading this year. However, if you're looking to find some more fluffy, contemporary romance stories with diverse sexualities and races I highly recommend this. It's cute, it's fluffy, it's just a fun quick read and the note that Hollis leaves at the end is incredibly sweet.
The Playlist
The Melody of You and Me has a lot of musical elements because Chris is a musician! So the author provided us with a lovely playlist and I would like to share them with you today. Below is an embedded YouTube playlist. I'm not sure if Spotify playlists work for everyone if they don't pay for premium so I felt YouTube was the best option. Enjoy!
About the Book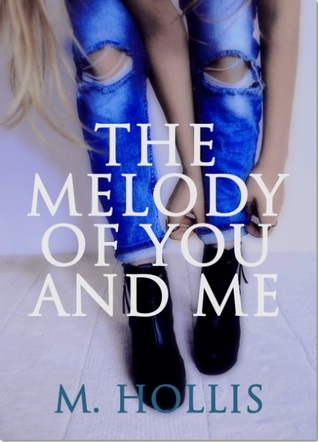 Author: M. Hollis
Publisher: Self-Published
Publication Date: September 29, 2016
Genre(s): New Adult, Contemporary, Romance, LGBT+
Page Number: 82
After dropping out of university and breaking up with her girlfriend of three years, Chris Morrison's life is now a mind-numbing mess. She doubts that working at the small neighborhood bookstore is going to change that. The rest of her time is spent mostly playing guitar and ignoring the many messages her mother keeps sending her about going back to college.
But one day, an adorable and charming new bookseller waltzes her way into Chris's life. Josie Navarro is sweet, flirty, and she always has a new book in her hands. The two girls start a fast friendship that, for Chris, holds the promise of something more. But is she reading too much into this or is it possible that Josie feels the same way?
About the Author
M. Hollis could never decide what to do with her life. From the time she was a child, she has changed her ideas for a career hundreds of times. After writing in hidden notebooks during classes and daydreaming during every spare moment of her day, she decided to fully dedicate herself to her stories. When she isn't scrolling around her social media accounts or reading lots of femslash fanfiction, you'll find her crying about female characters and baking cookies.